Social Suicide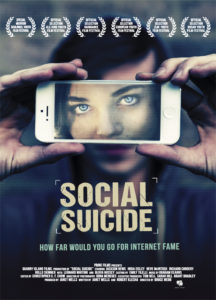 A feature thriller now showing on Amazon and Amazon Prime.
When internet obsessed Balthazar unexpectedly captures a violent death on video, he is brought in by police who uncover the extreme lengths teens go for internet fame.
Click here to see the trailer: https://www.youtube.com/watch?v=vbv7SvXMsvI
Status: Directed by Bruce Webb and starring India Eisley (Underworld Awakening), Neve McIntosh (Doctor Who) and Jackson Bews, Social Suicide is a timely and heart-stopping teen thriller and has been in 6 festivals, received accolades and been sold in numerous territories. Please contact Sales Agent Igor@Princfilms.com for more information.
Show Home
A Woman's obsession with luxury Show Homes destroys the ambitions of an unfortunate Estate Agent in one memorable viewing.
A 10 minute short film directed by Adam Ganz and starring Natasha Little (The Night Manager) and Charlie Creed-Miles (Wild Bill).
The Change
A 30 minute mockumentary about one women taking matters into her own hands when she discovers there is more to 'The Change' than she bargained for. She may go through menopause, but she's not going to take it lying down. Especially after being woken up repeatedly with night sweats. Starring Terri Dwyer (Hollyoaks) and Helen Daniels (iBoy).