Social Suicide – NOW SHOWING ON AMAZON!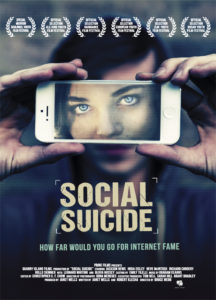 When internet obsessed Balthazar unexpectedly captures a violent death on video, he is brought in by police who uncover the extreme lengths teens go for internet fame.
Click here to see the trailer: https://www.youtube.com/watch?v=vbv7SvXMsvI
Status:  Directed by Bruce Webb and starring India Eisley (Underworld Awakening), Neve McIntosh (Doctor Who) and Jackson Bews, Social Suicide is a timely and heart-stopping teen thriller and has been in 6 festivals, received numerous awards and been sold in 5 territories.   Please contact Igor@Princfilms.com for more information.
Show Home 
A Woman's obsession with luxury Show Homes destroys the ambitions of an unfortunate Estate Agent in one memorable viewing.
A 10 minute short film directed by Adam Ganz and starring Natasha Little (The Night Manager) and Charlie Creed-Miles (Wild Bill).